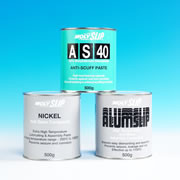 An anti-seize compound and a lubricant perform entirely different functions although many anti-seize products have lubricating properties,especially at higher temperatures.In environmentally adverse conditions such as high
humidity and salinity,extreme pressure,acidic atmospheres or excessive
temperatures,metals can fuse or weld together.
The chief culprit is corrosion, particularly in marine surroundings.
Molyslip anti-seize products are designed to provide an insulating layer between metals so that dismantling and routine maintenance are free from breakage of fused parts.
This problem is especially onerous on threads and snackles.A single application of Copaslip or Alumslip will stop metal fusion for many years.
COPASLIP

Original anti-seize compound.

It is a very high temperature (up to 1100°C) anti-seize assembly compound, bentone based non-melt grease with copper, polybutene, and anti-corrosion additives.

ALUMSLIP

Specially formulated to protect against seizure even under extreme conditions of pressure and temperature.

Also a highly effective thread lubricant and protective.

Designed for same applications as Copaslip® but where there is a prejudice against the presence of copper. Temperature range up to 1100°C.

NICKELSLIP

Nickel based extra high and low temperature anti-seize assembly compound. Containing pure nickel, aluminium and graphite in a non-melt base with corrosion and oxidation inhibitors.

MOLYSLIP AS 40

Anti-scuff, bedding-in paste, gelled lubricating oil with a high proportion of MoS2 (40%) together with graphite, rust and corrosion inhibitors.

CERAMIC ANTI-SEIZE COMPOUND
High-temperature non-metallic anti-seize compound and assembly paste.