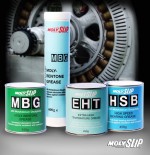 Molyslip's specialized greases are recognized as the leading brands
suitable for industrial application,and are selected worldwide by technical
and purchasing managers.
They are designed for tough,rugged conditions and are available in a wide
range of pack sizes.
Product
Description
MBG
Heavy duty bentone based grease with molybdenum disulphide
EHT
High temeperature non-melt moly grease up to 250 0
OGL
Open gear lubricant
GPG
Multi-purpose lithium grease with MoS 2
HSB
Premium MOLY EP lithium grease for high speed bearings
Grease for lubrication of details with rubber components.
SLIPSEAL GAS JOINT SEALANT
Gas joint sealant.


Compound specially formulated to give excellent sealing properties on both threaded and face gas joints.
Main characteristics of Molyslip greases
Product

Base

Min.working

temperature

Max.working

temperature

Contains

MoS 2

Worked

Penetration

MBG

Bentone

- 20

200

Yes

220-250

EHT

Bentone

- 10

250

Yes

310-340

OGL

Bentone

- 20

200

Yes

265-295

GPG

Lithium

- 30

150

Yes

265-295

HSB

Lithium

- 30

150

Yes

265-295