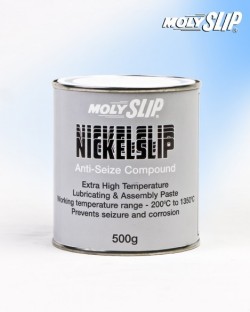 Nickel based extra high and low temperature anti-seize assembly compound.
Containing pure nickel, aluminium and graphite in a non-melt base
with corrosion and oxidation inhibitors.
For use on threaded parts,bushings,gears,valve systems,with satainless steel screws,flanges,nozzles etc.
Effective temperature range up to 1350 0 C.
Extremely resist to high temeperature and to acids,chemical corrosion and oxidation.
For use when copper can not be present.
Size:
| | |
| --- | --- |
| Code | Packing |
| 18A005 | Cartridge 0,5 kg |